Removable Heated Build Plate Upgrade
This is a 6 inch X 11 inch (152mm X 279mm) heated build platform (HPB). The build surface is a removable piece of 3.3mm thick borosilicate glass with handles, which is secured to the aluminum heater plate by Neodymium Iron Boron (NdFeB) magnets. These magnets are recessed into the underside of the heater plate.
To remove the build surface, simply lift it by the handles and pull the surface from the machine. Using glass as a build surface provides a clean, truly flat printing area which won't warp. A removable build surface also allows for easier removal of your finished prints and easier surface preparation (tape application, or other experimental adhesives). The heater plate is heated by a 130W silicone heater controlled by the Replicator's OEM Mightyboard.
This HPB system is compatible with the Replicator 1, 2, and 2X machines. Replicator 2 owners must upgrade to a 9.2 amp (or greater) @ 24VDC power supply. Replicator 1 and 2X users can use their existing power supplies.
- Borosilicate glass print surface won't ever warp
- Removable surface - after each print is done, simply remove the print surface by grabing the handles. An extra print surface can then be installed back into the machine for a quick return to printing
- Users who don't currently have a heated build platform: adding a HBP enables you to use a larger selection of plastics.
- Heat can also help PLA stick to the print surface better.
- Can be used with the OEM plastic Z-Stage arms or the Aluminum Arm Upgrade
- A step-by-step, full color installation manual will be provided.
- One glass surface included; Additional print surfaces sold seperately.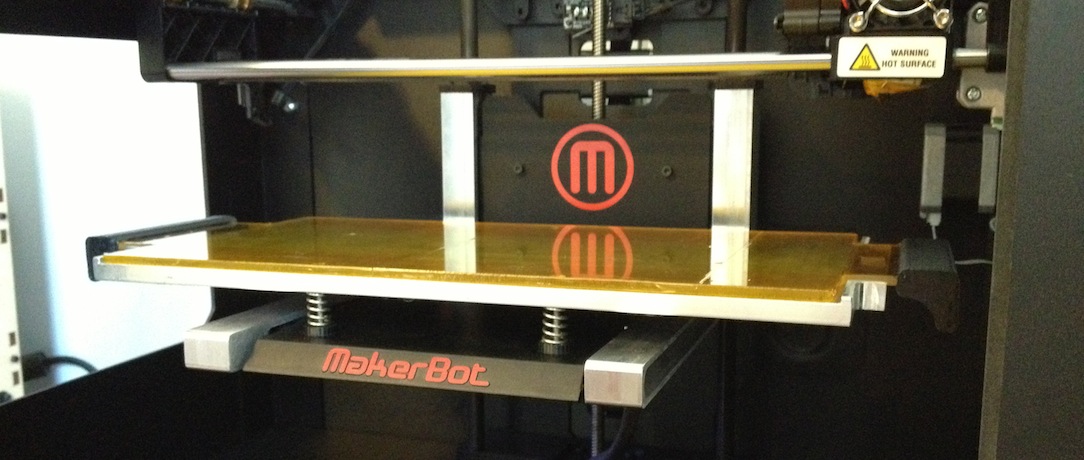 Heated Build Platform Kit - Out of Stock

---

Extra/Replacement Build Surface - $30 - Out of Stock

---

Have you seen the Aluminum Z-Stage Arm kits for the Replicator 2 & 2X?